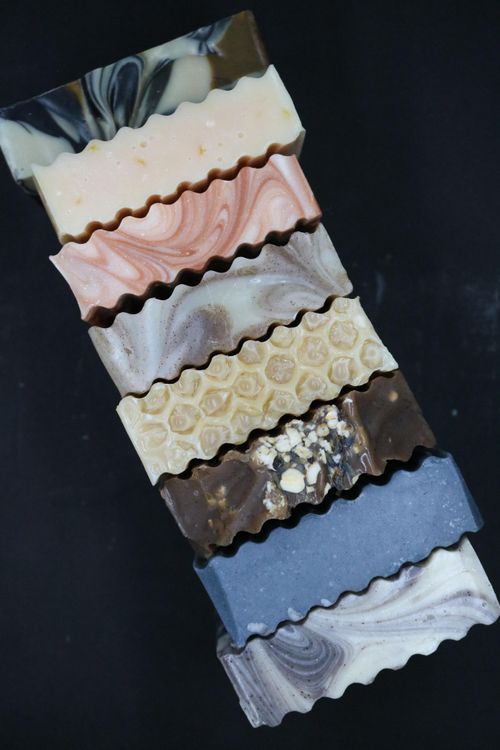 Is Artisanal Soap Really Worth It?
You bet!
I'll draw a comparison to explain the difference.
Store bought, mass produced product
Think of store bought packaged cookies. They satisfy the sweet tooth, many taste somewhat enjoyable. But they are full of preservatives to keep their consistency and not spoil during sometimes months of shelf store. Same with store bought soaps. Even those once touted as 99% pure, specially made for sensitive skin, etc. These soaps are still full of chemicals and preservatives to ensure long shelf life with retained fragrance and consistency. They clean your skin well enough, but the chemicals and preservatives cause sometimes severe dryness, acne breakouts and allergic reactions,
Next think of those slice and bake cookies.
Those mass produced slice and bake refrigerator cookies. Pretty inlay designs, soft and chewy especially when warm from the oven. Taste better than packaged cookies. But contain preservatives for long freezer or refrigerator life. They tend to upset my stomach, but I can still eat them. That's my comparison to melt and pour or not very well formulated homemade soaps. You know, those soaps that look pretty from the fancy colours, however those colours are artificially produced containing chemicals. Or those soaps formulated with cheap quality, highly processed oils; are not correctly formulated by the makers with poor oil mixtures making them too soft, or harsh and drying on your skin. Or worse yet, soaps that are scented with cheap fragrance oils that are chemically produced. Allergy attack waiting to happen!
Now think about how satisfyingly good home baked cookies taste!
Think of Gramma making your favourite cookies and serving them to you still warm out of the oven. Made with love, by skillful hands. No artificial ingredients. Full of your mouthwatering favourite things like the best quality chocolate chips, fresh spices, creamy butter. Then baked to perfection, ready for dipping in milk or your favourite java. That's comparable to best quality artisan soaps. They contain the best, truly natural ingredients. Nothing chemically enhanced. Skilled makers use good oil mixtures that will moisturize your skin, sooth it from irritations, reduce acne breakouts. And best quality soaps makers use only essential oils for fragrance, bringing you everything made in nature. Lowest risk of any allergic reaction for you. Plus added moisturizing benefits not found in cheaper quality soaps.
So of course, homemade, small batch artisan soaps are worth every cent you spend. You and your skins health are worth it!
by Nancy Morrison
10 Aug 2023